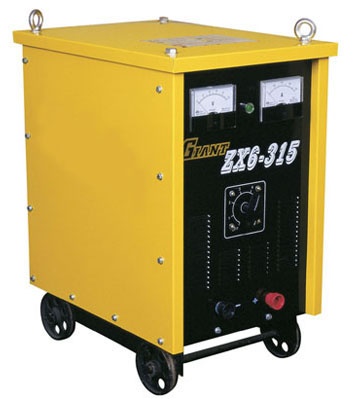 Features
*New style energy saving 3 phase welding power source,adopts 3 phase connection rectify mode.
*Adopts primary segment connection to increase the flux leakage,change the primary tap to adjust the welding current,hight efficiency and low no-load loss.
*The structure is simple and reasonable,easy to operate,convenient to maintain,low noise.
*Suitable for welding of low alloy steel,stainless steel,wear-resisting steel and castiron.


Item
ZX6-160
ZX6-200
ZX6-250
ZX6-315
ZX6-400
ZX6-500
Power Voltage(V)
380
380
380
380
380
380
Rated Capacity(KVA)
8
11
15
22
28
38
No-load Voltage(V)
52-68
52-68
55-68
55-68
60-80
60-80
Rated Operating Current(A)
160
200
250
315
400
500
Current Range(A)
35-160
50-200
80-250
140-315
140-400
140-500
Adjusting stages
7
7
7
7
7
7
Rated duty cycle(%)
35
35
35
35
35
35
Insulation grade
F
F
F
F
F
F
Protective grade of housing
IP21S
IP21S
IP21S
IP21S
IP21S
IP21S
Weight(Kg)
71
80
94
110
116
125
Dimension(mm)
620×400
×650
620×400
×650
650×420
×700
690×500
×750
690×500
×800
690×500
×800
Cod.(No)
895034
895035
895036
895037
895038
895039