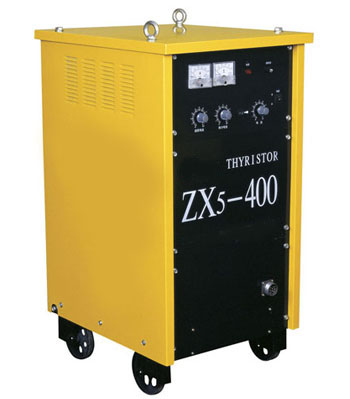 Features
*Suitable for DC SMA/MMA welding with all kinds of electrode.
*Easy to strike the arc without any adjustment.
*Remote control for the welding current makes the operation be convenients.
*Good dynamic character with gentle performance and stable arc.
*Quite molten pool,little spatter and no undercut ensure workpiece in good welding appearance.


Item
ZX5-250
ZX5-300
ZX5-400
ZX5-500
ZX5-630
Rated input capacity(KVA)
16
19
24
29
46
Rated input current(A)
20
24
36
45
70
Power voltage(V)
380
380
380
380
380
Rated output current(A)
250
300
400
500
630
Rated duty cycle(%)
60
60
60
60
60
Weight(Kg)
150
160
183
190
230
Dimension(mm)
610×480
×950
610×480
×950
610×480
×950
610×480
×950
630×520
×1030
Cod.(No)
895029
895030
895031
895032
895033