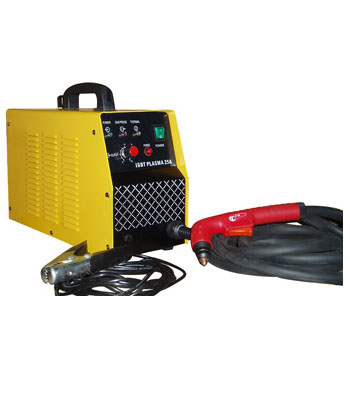 Features
*The main part of the machine adopts advanced international conductor switch IGBT.
*In order to solve the interference from high frequency arc,this machine use touching ignition and has a specially designed torch to avoid it.
*This cutting machine has stable current when it is cutting,very neat cut and neat cut and used for cutting carbon steel,stainless steel,aluminium and copper.


| | | |
| --- | --- | --- |
| Item | Plasma 15A | Plasma 25A |
| Power voltage(V) | 115/230 | 230 |
| Open circuit voltage(V) | 400 | 400 |
| Rated welding current(A) | 5-15 | 8-25 |
| Rated duty cycle(%) | 35 | 35 |
| Power factor | Cos∮≥0.9 | Cos∮≥0.9 |
| Safety class | IP21S | IP21S |
| Cool mode | Fan-cooled | Fan-cooled |
| Dimension(mm) | 400×160×240 | 400×160×240 |
| Net weight(kg) | 6.5 | 6.5 |
| Flow of compressed air(L/min) | 110 | 110 |
| Max.Caffing thiickness(mm) | 6 | 8 |
| Cod.(No) | 894001 | 894002 |