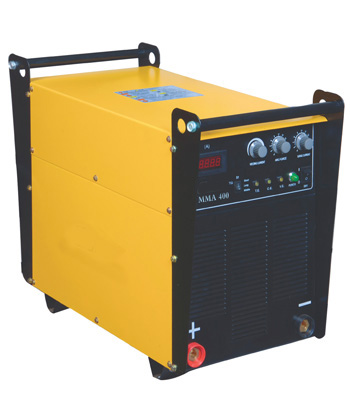 Features
*High quality and energy-saving.
*Advance arc force and arc-starting function can resist interference.
*Stable arc can make little spatter.
*High welding quality,deep penetration and strong strength.
*Auto protection of over-voltage and over-current.
*Be able to work continuously,it can balance automatically when voltage is waving.
*Suit for welding all kinds of basic welding rod.
*Be able to weld cellulose rod.
*Be able to equip with remove controller freely in order to distance welding.


| | | | |
| --- | --- | --- | --- |
| Item | MMA 315 | MMA 400 | MMA 500 |
| Input power voltage(V) | 380 | 230 | 230 |
| Input voltage frequency(Hz) | 50/60 | 50/60 | 50/60 |
| No-load voltage(V) | 12 | 17 | 23.5 |
| Output current range(A) | 10-315 | 10-400 | 10-500 |
| Rated output voltage(V) | 40 | 40 | 40 |
| Duty cycle(%) | 60 | 60 | 60 |
| Efficiency(%) | 85 | 85 | 85 |
| Power factor | 0.7-0.9 | 0.7-0.9 | 0.7-0.9 |
| Insulation class | F | F | F |
| Protection class | Ip21S | Ip21S | Ip21S |
| Weight(KG) | 45 | 45 | 55 |
| Dimension(mm) | 698×360×529 | 698×360×529 | 698×360×609 |
| Cod.(No) | 891023 | 891024 | 891025 |