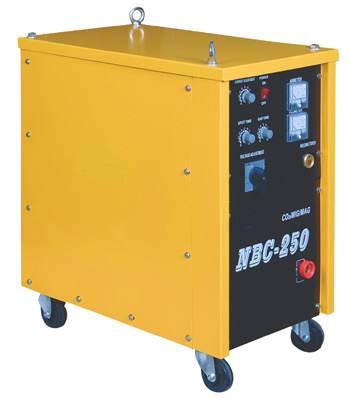 Features
*Specially for welding of thin and mid-thickness steel
*Suitable for MAG/CO2 welding of low carbon steel and low alloy steel.
*Inner wire feeder structure keeps the welder be integrated.
*Work in high effciency with good welding quality,no slag, opened arc and high visibility.
*Less deformation ensure welding appearance well.


| | | |
| --- | --- | --- |
| Item | NBC-250 | NBC-315 |
| Power voltage(V) | 380 | 380 |
| Rated welding(A) | 250 | 315 |
| No-load voltage(V) | 18-34 | 18-36 |
| Current range(A) | 60-250 | 70-315 |
| Rated input capacity(KVA) | 9.8 | 14.2 |
| Rated duty cycle(%) | 35 | 35 |
| Weight(Kg) | 103 | 110 |
| Frequency(Hz) | 50/60 | 50/60 |
| Dimension(mm) | 645×400×760 | 645×440×760 |
| Cod.(No) | 893008 | 893009 |
MIG Welder, MAG Welder, MIG welding Machine, MAG Welding Machine